Gone are the days of boring wedding cakes! Carved and themed cakes to truly reflect who you are.
Every cake is different, and we work closely with our couples to ensure there cake is truly original. On the below you will find a variety of contemporary designs that we have made for bride and grooms over the last 8 years
*prices quoted are for sponge cakes, fruit cake will cost a little more
Globetrotter cake (code 031)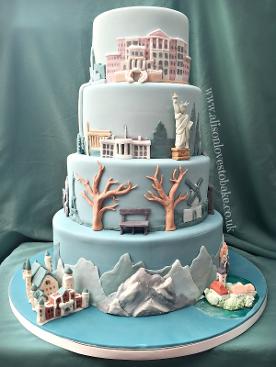 The perfect cake for any globetrotting couple. Featuring handmade 2D and 3D landmarks.
Cake pictured £ 417 & provides 80 desert slices or 120 finger slices*
Just married
vehicle
cake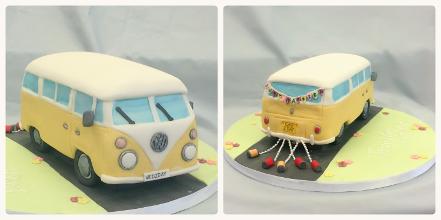 This quirky campervan was adorned with "just married" bunting & can be mounted on a larger or tiered cake if required.
Rollercoaster cake (code 070)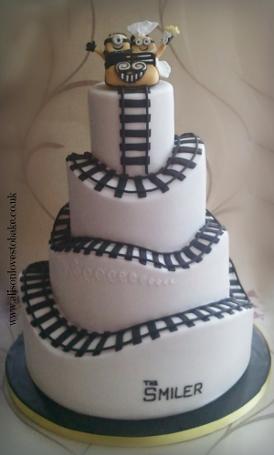 This carved cake was designed to reflect the couples love of The Smiler.
Cake picture£ £396 & provides 130 desert slices or 200 finger slices *
Magical castle cake (code 069)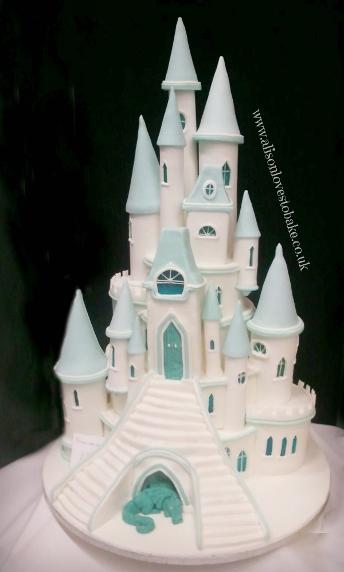 Cake pictured £536
& provides
150 desert slices or 215 finger slices*
This incredibly detailed cake is truly magical. Featuring a sleeping dragon, rice krispy treat steps, multiple hollow sugar turrets filled with sweets and 4 tiers of our delicious cake, making this a treat for the taste buds as well as the eyes!
This unusual design reflected the couples love of Star Trek & Doctor Who, while retaining a fabulous elegance.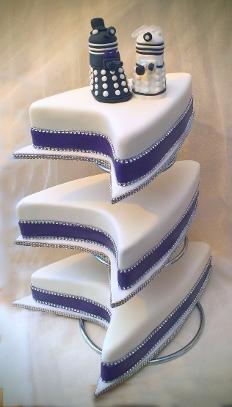 Cake pictured is £362 & provides 100 desert slices or 150 finger slices*

"We knew we were in safe hands when we met Alison at a wedding fair, she was very enthusiastic about our sci-fi cake design and simply understood exactly what we wanted. She produced a unique, stunning and delicious wedding cake for us and drove 45 miles to come set it up for us. Can't recommend her enough, she will definitely be our first point of call when we need our next special cake."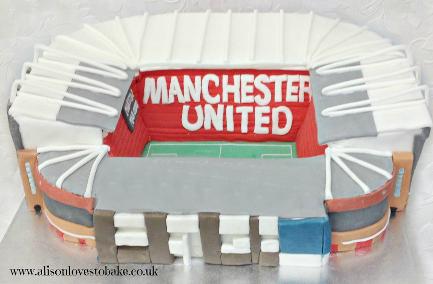 For a real sports fan this carved stadium cake makes an amazing centrepiece for your big day.
Simple castle cake (code 049)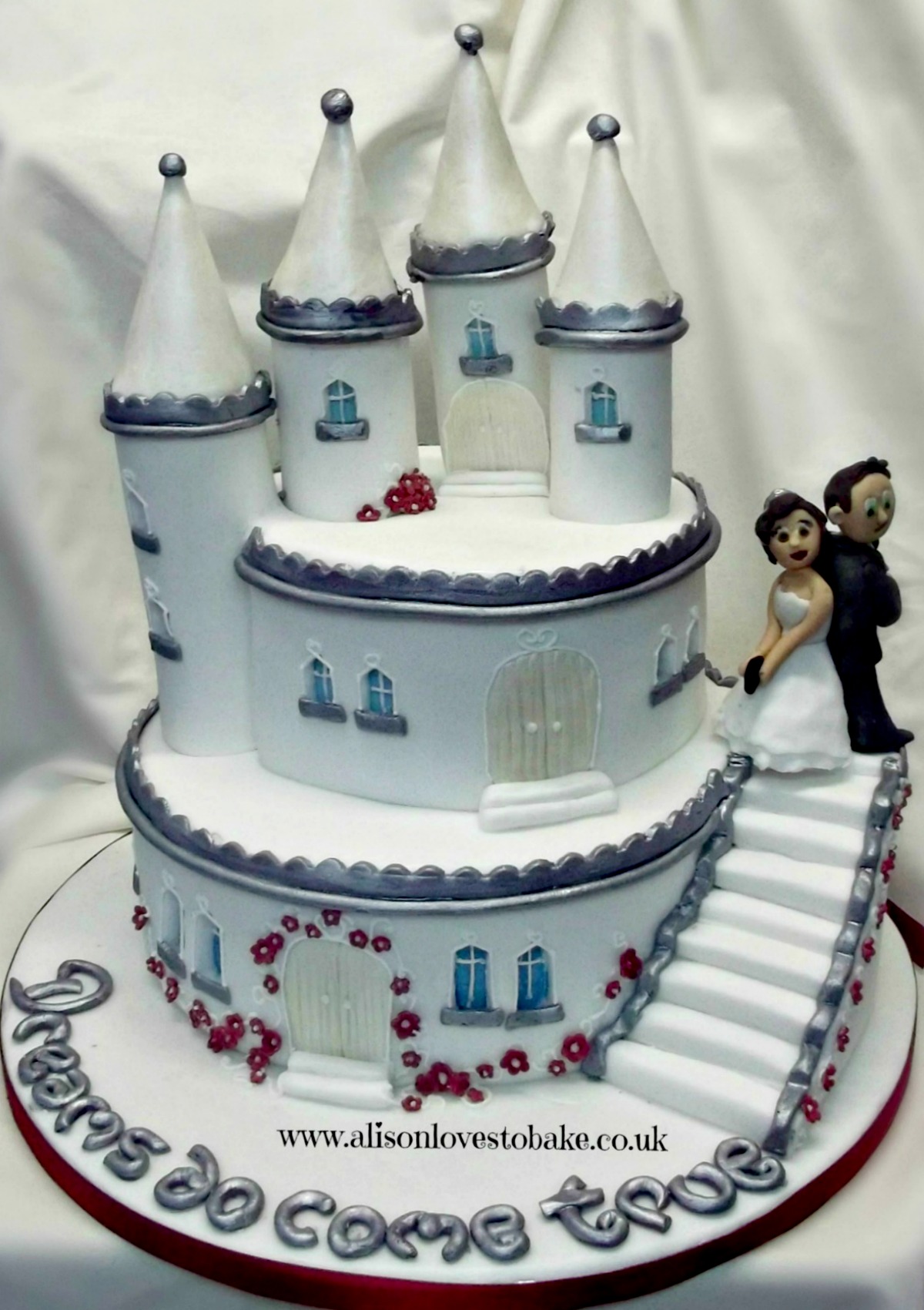 A cake to add a real fairy tale touch to your day.
Cake pictured is £154 & provides 40 desert slices or 60 finger slices*
Hidden garden cake (code 006)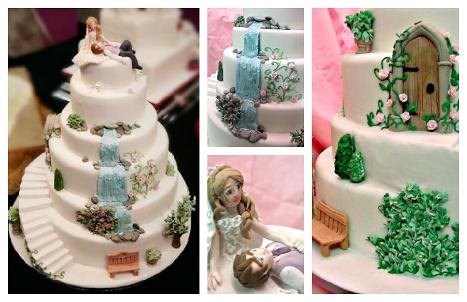 Cake pictured above £657 & provides 200 desert slices or 300 finger slices*

This award winning cake was designed by Alison for the 2012 Cake International competition in London. The cake took over 35 hours to create and received a certificate of Merit from the British sugarcraft guild.
Comic strip hero cake (code 007)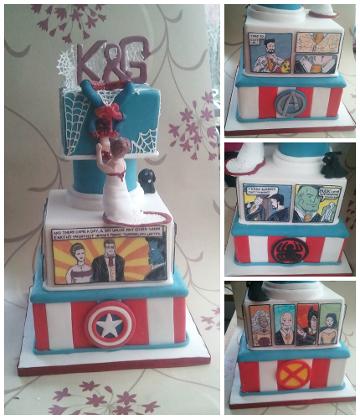 Featuring hand painted comic strip images this stunning marvel themed cake is a real talking point.
Cake pictured £324 & provides 76 desert slices or 114 finger slices*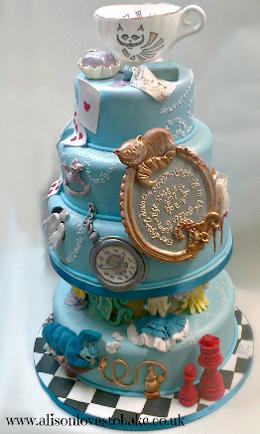 This beautifully detailed cake features quotes from both Alice books winding around the handmade sugar images. It won Alison a certificate of merit at Cake International in Birmingham in November 2012.
Cake pictured is £503 & provides 130 desert slices or 195 finger slices*
Wonderland cake (code 022)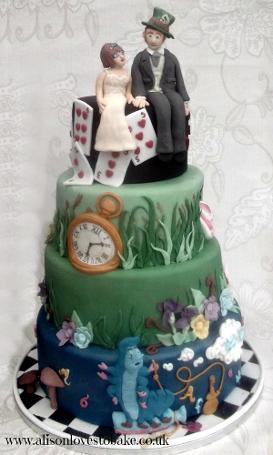 Designed by the bride this 4 tier cake proves Wedding cakes don't need to be traditional to be stunning.
Cake pictured £441 & provides 130 desert slices or 195 finger slices*
Wonky wonderland cake (code 020)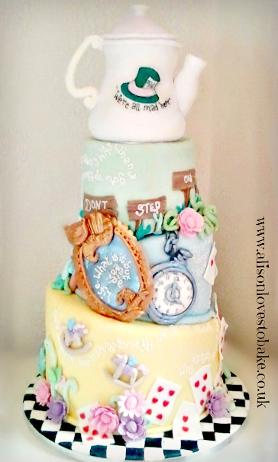 A variation of our popular Alice design. This time "wonky" tiers and a top tier, carved in a teapot shape, prove that "we're all mad here!"
Cake pictured £405 & provides 80 desert slices or 120 finger slices *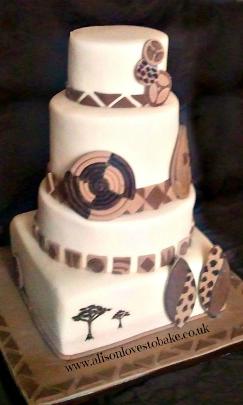 Designed for a couple who met while traveling in Africa this cake will be a real talking point.
Cake pictured is £305 & provides 90 desert slices or 130 finger slices*
Wedding party cake (code 056)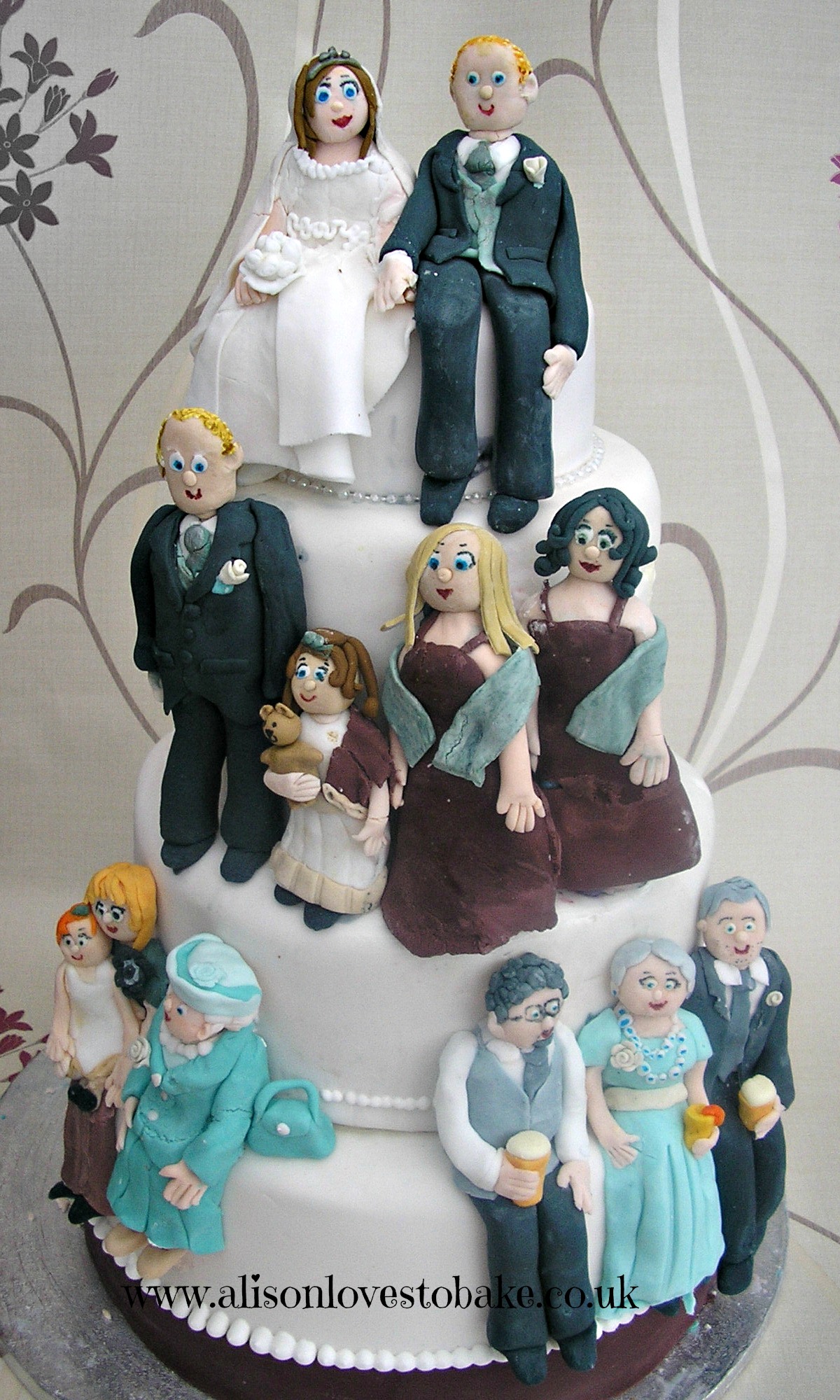 A truly individual cake with 11 key members of the wedding party depicted in icing.
Cake pictured is £459 & provides 80 desert slices or 120 finger slices*
Train to romance cake (code )